Precision, Performance, Peace of Mind
Porter Instrument Company is a leader in precision instruments for dental, medical and industrial applications.
Porter specializes in manufacturing precision instruments to measure and control the flow of gasses and liquids.

Industrial Products:
Gas Mass Flow Controllers and Flow Meters, Liquid Mass Flow Controllers and Flow Meters,
Electronic Proportional Control Valves, Low Flow Metering Valves, Mechanical Mass Flow Controllers,
Pressure Regulators, Flow Meters and Flow Tubes.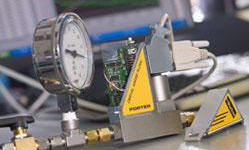 Please Note:
Vaughn Associates only represents the Industrial and Medical Products Group for Porter Instruments.
Please Contact Porter directly for their Dental  Products Representative.